How to download a digital PDF sewing pattern
Firstly, a massive thank you if you have bought one of my sewing patterns or the other digital downloads available from the store. It truly does mean a lot to me. I'll soon have you on your way with your file so you can start sewing right away. Here's a quick set of step by step instructions on how you can download a digital PDF sewing pattern or other digital files from the store or your account.
I'm just using a dummy product and a single purchase in this example. If you have bought more than one item, or there is more than one file for your download, just repeat the steps for each of the downloadable files.
Method One – download when you purchase
As soon as you have made completed your purchase (and paid if it's a paid pattern) you'll arrive at the screen that confirms your order. STOP, don't leave. It's time to download your files. This is the easiest way to download any pattern files so take the time to do it now rather than wait for an email receipt.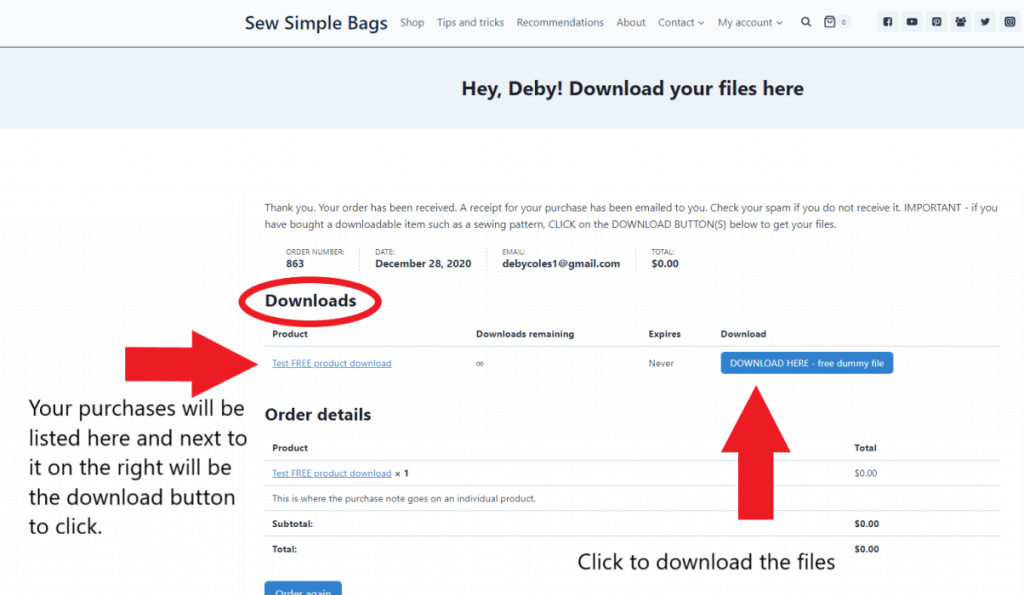 Look for the 'DOWNLOADS' section, circled in red above. Under here on the left will be listed the products you have purchased. On the right you'll see the download button or buttons. Click each of the DOWNLOAD HERE buttons in turn to download the files from our site to your device.
The download happens in the background and will save (usually) to your downloads folder. You may have changed your laptop or device settings in the past for downloads to be saved to another location. On a laptop you'll see the file in the bottom left hand corner of your browser and can click there to open it.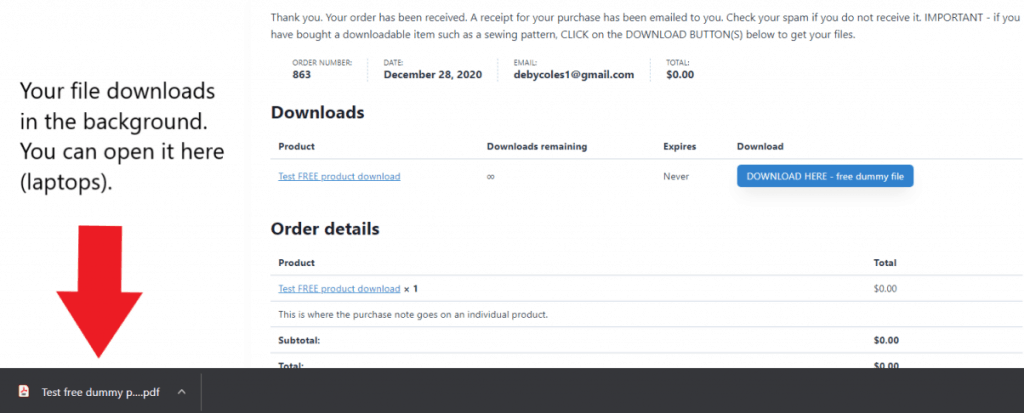 Method Two – from your purchase receipt email
Let's say you missed that screen with the download buttons and closed the browser. Oops. Not to worry, you can still easily download the files at any time. They aren't lost. The second way to download would be from your purchase receipt email. This should arrive very soon to your inbox, but depending on your email provider it may also go to you promotions folder, or even your junk/spam folder. So if you don't see it in your inbox, do check in those places as well.
Once you've found your email receipt, you'll see that it also includes a section marked 'Your Downloads'. You'll be prompted to 'Download your sewing pattern file(s) here' and there will be a list of clickable links for your files.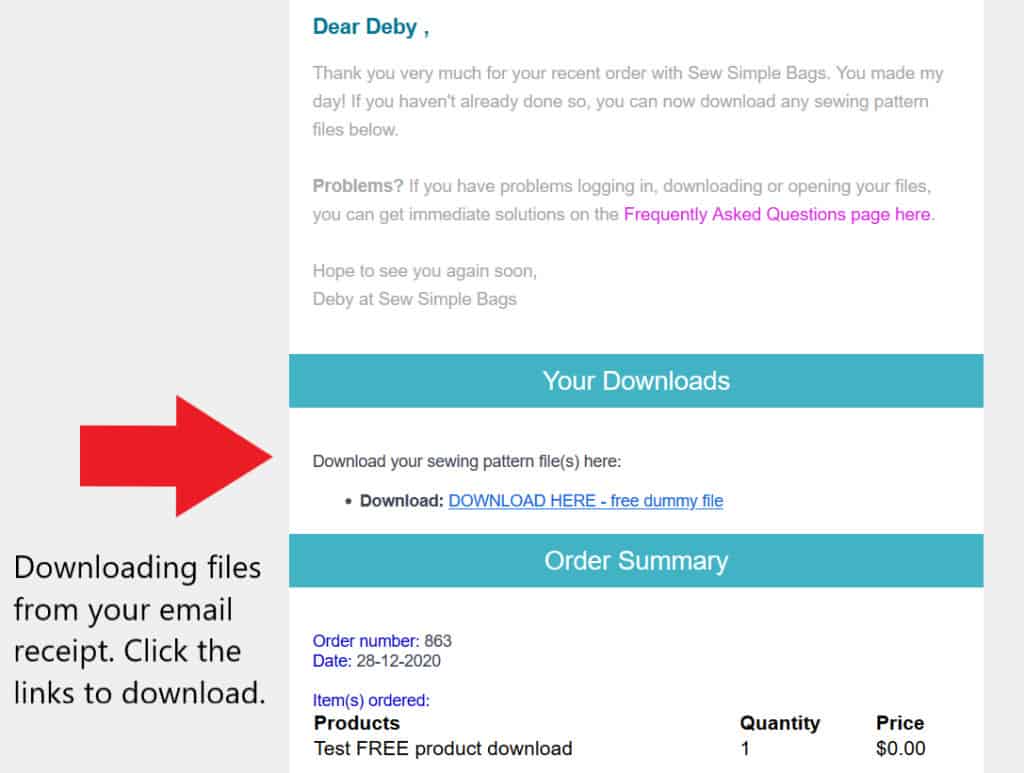 If you have left the Sew Simple Bags site, then you may be asked to login again to verify that those purchases are yours before the file downloads will begin. As before, the files download in the background and are usually saved to your downloads folder unless settings are different on your device.
Method Three – from your account
Let's say you have deleted that receipt email too, and then perhaps lost the file when you changed computers. Not to worry, you can download your files again at any time from your account.
Go to My Account in the site menu. If you aren't already logged in, you'll be prompted to enter your username and password. You may also use your email address in place of a username. If you can't remember your password, go ahead and click the forgotten password link to reset it. Check your inbox/junk etc for the reset password email.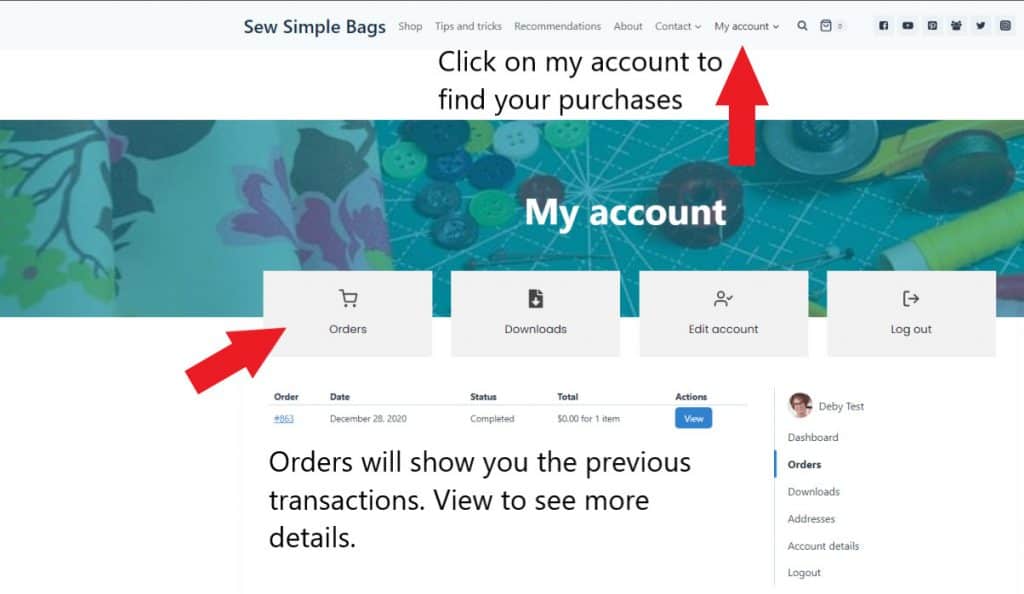 If you click ORDERS you will see all of your previous transactions. Clicking the VIEW button will bring up details of the individual transactions and also shows the download links.
Click on DOWNLOADS to see a list of all of the available downloads in your account. Each one will have the name of the product on the left and a DOWNLOAD HERE button on the right. Click the download button and your files will download as described above. You can access your downloads here at any time, so this is handy if you haven't got the email receipt.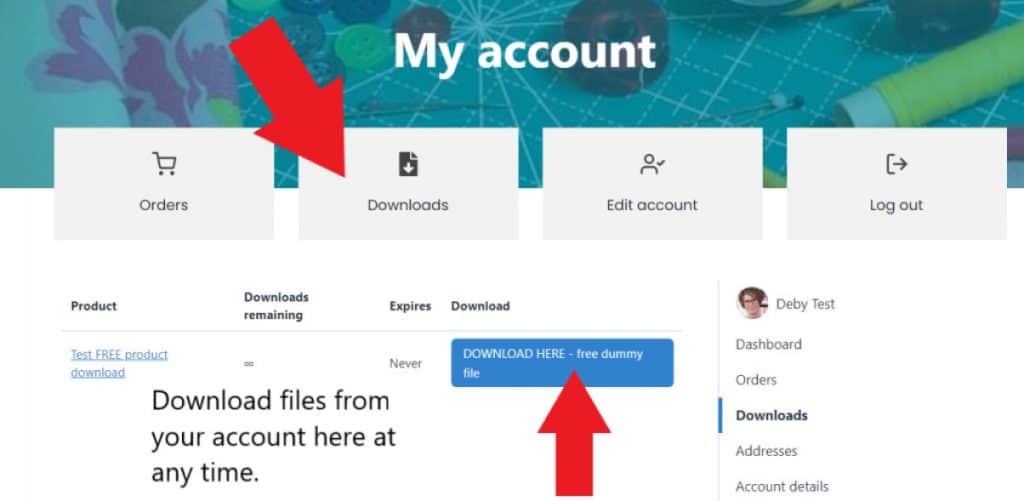 TROUBLESHOOTING
If you have downloading issues, try these solutions:
Need more help with printing, or resetting your password? Check out the FREQUENTLY ASKED QUESTIONS page.
Still stuck? If you've worked through these solutions and still can't get your file, please contact me. Let me know what you've tried, what error message you are getting, or where you are stuck. A screen print can really help me troubleshoot with you.