How to print a PDF sewing pattern at home
Once you have downloaded your pattern files (see this article if you need help with downloading – How to Download A Digital PDF Sewing Pattern), then it's time to open the file, review the instructions and pages and print out just the parts of the PDF document that you need. I'll give you some tips on how to successfully print your PDF sewing patterns at home. These tips apply to all PDF sewing patterns, not just the ones you download from Sew Simple Bags.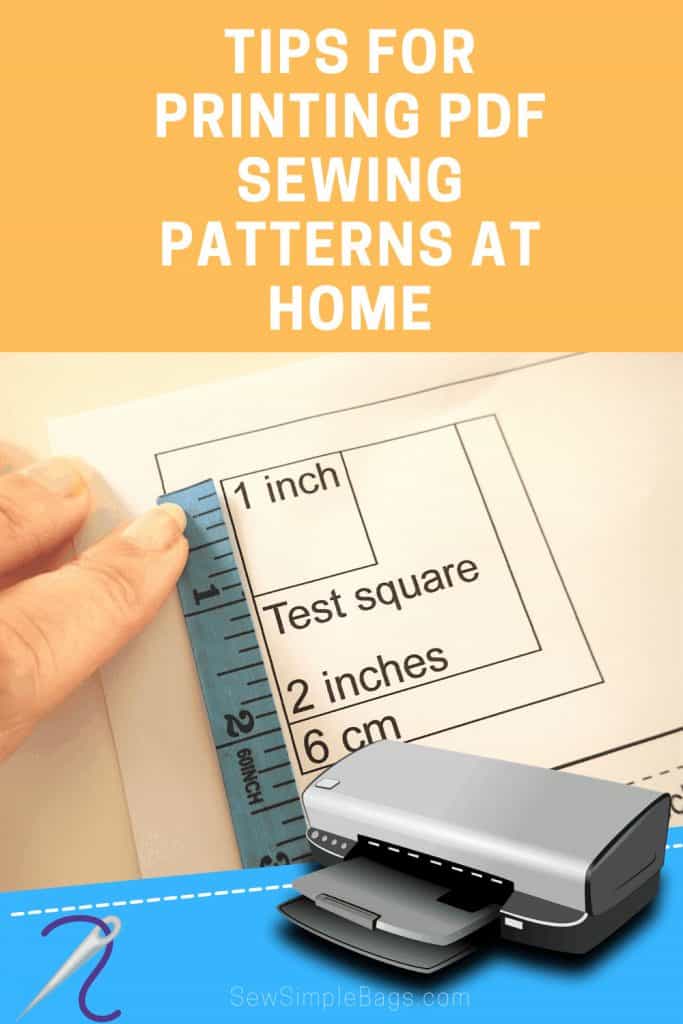 If you are new to sewing or coming back to it after years away, you may not be familiar with the digital sewing patterns and how to print them. But don't worry you will soon get the hang of it and then you'll be delighted that you can buy sewing patterns from home, print them immediately and start sewing without having to even leave the house.
Start at the previous article on How to Download the Digital Sewing Patterns, and once you have your file downloaded, it's time to open it, review the contents and print any pages you'll need physically in your hand to cut your fabric and start sewing.
I have some tips for you in video format coming up next, and also fully written out with step by step images below.
How to print a PDF sewing pattern at home – video
What program or app to use to open a PDF sewing pattern
Your downloaded sewing pattern almost certainly comes in PDF format. The file will be shown with .pdf at the end. There are a number of PDF readers available, and a number of apps on your phone, but for best results I recommend using the industry-leading program, Adobe Reader. It's free to download or update here – Adobe Reader free download.
If you are having trouble opening the file or have scaling issues while printing, I recommend switching to Adobe Reader rather than any of the alternatives available. You may also have issues if you are running an old or out of date version of Adobe Reader and the pattern you are opening or printing was created in a later version. Sometimes a quick software update will fix your problems in minutes.
Don't open a PDF file in your internet browser if you want to print it. That's OK for viewing and reading the instructions, but will likely give you issues when trying to print to the correct scale.
Should I print a PDF sewing pattern from my cell phone?
Almost certainly no. Printing from your cell phone (or from an internet browser as mentioned above) will likely give you issues with scaling your pattern and the pieces could print out the wrong size. It's always best to use Adobe Reader on a tablet or best of all a laptop computer for printing.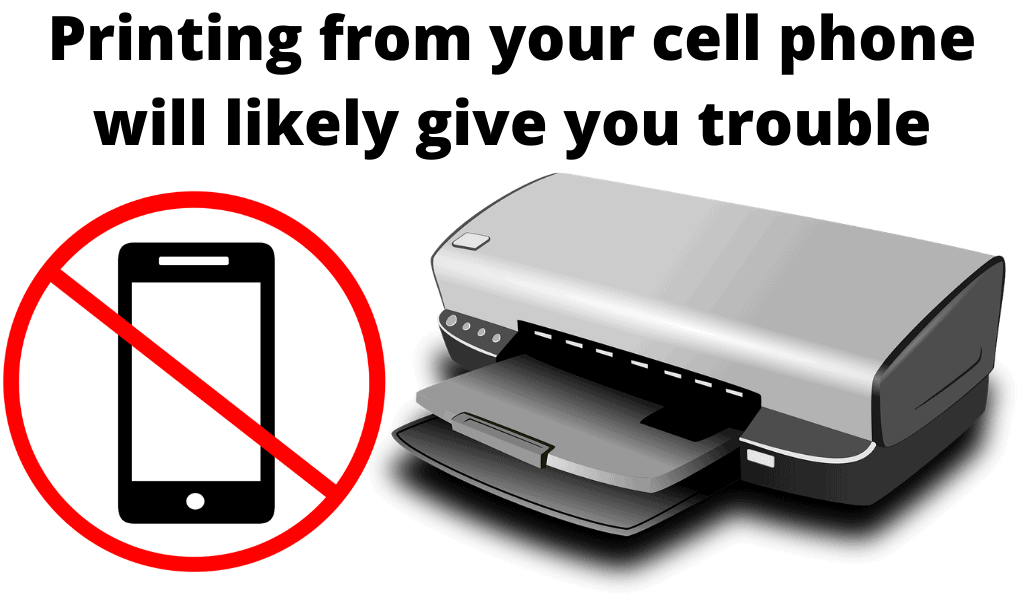 Decide what pages you need to print
Some sewing patterns can run into dozens of pages long. I think the longest one I've seen is 93 pages because there were a LOT of complicated instructions for that bag. You won't find patterns that long here on Sew Simple Bags, but you still may not want or need to print out all of the pages.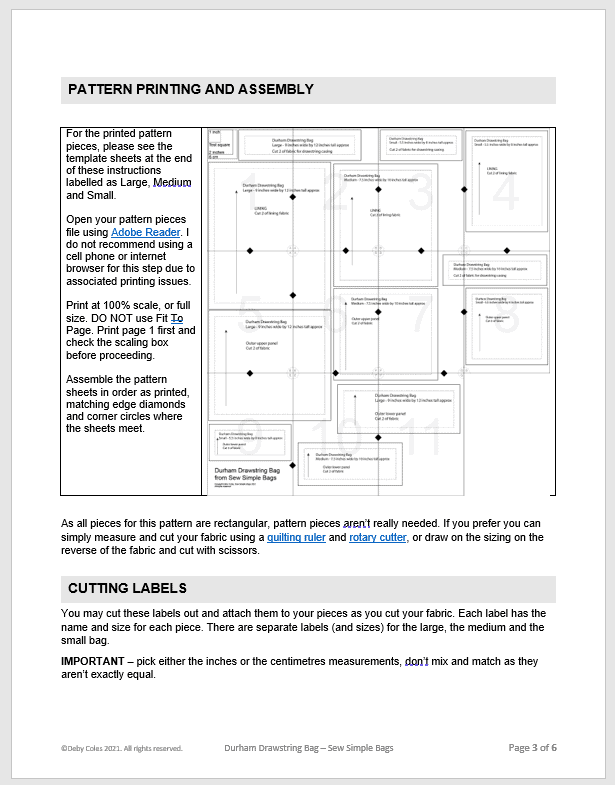 Pages you might want to print:
the pattern pieces or templates
any guide or picture that shows how to assemble the pattern pieces
any cutting chart with measurements for your pieces
fabric labels to label your cut pieces
a materials list for taking with you when you go shopping
Even for a pattern with a lot of pieces, you still may need to only print a handful. That saves you time, paper, ink and space. In these instructions I'll show you how to print only the pages you need from the whole document. So view the file, scroll through the pages and make a note or mental note of which pages you want to print.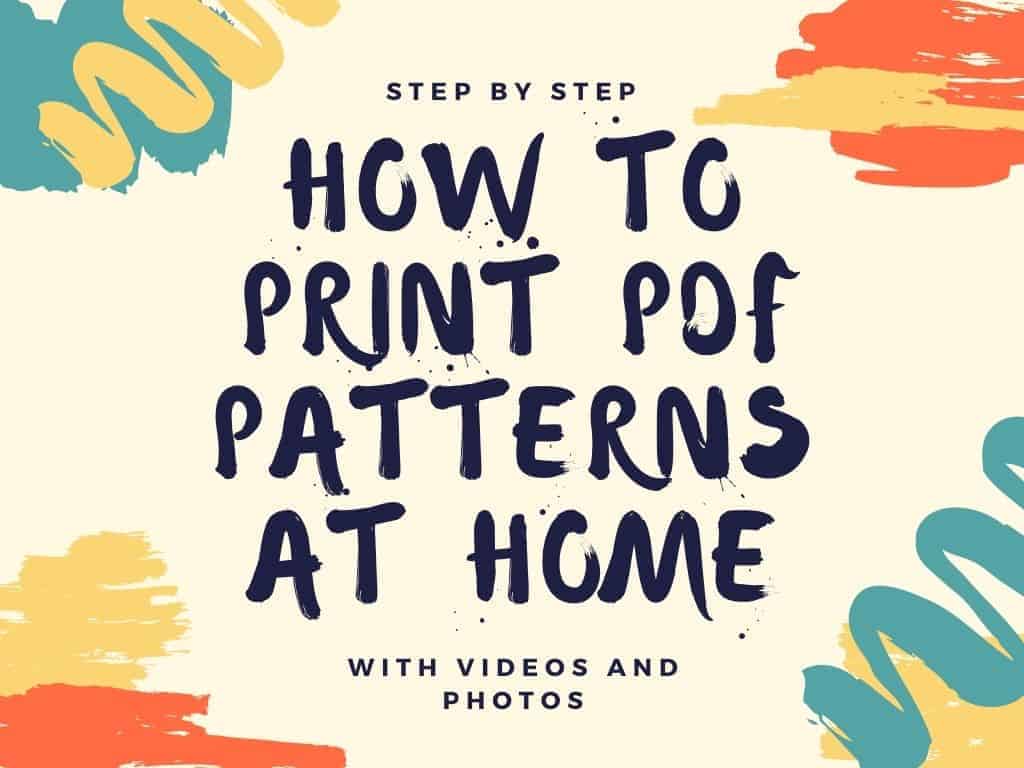 Download this article as a PDF
This article has been converted to a print-friendly PDF file to make downloading, saving and printing it easy. Any videos in the article still work. It's available for optional purchase for your convenience.
How to check your pattern is printing at the correct size
Before we get all over-enthusiastic and print off all the pages, it's best to print a single test page and check the scale. Good patterns should have one page with a scale. This could be a square, a line or a small ruler with lengths marked on it. Flip through the pages of the pattern and look out for this 'test square' or scale and we'll just print that page first.
Find the page with the test square, then go to the menu in Adobe Reader and pick FILE -> PRINT. Up comes the print options and dialogue box.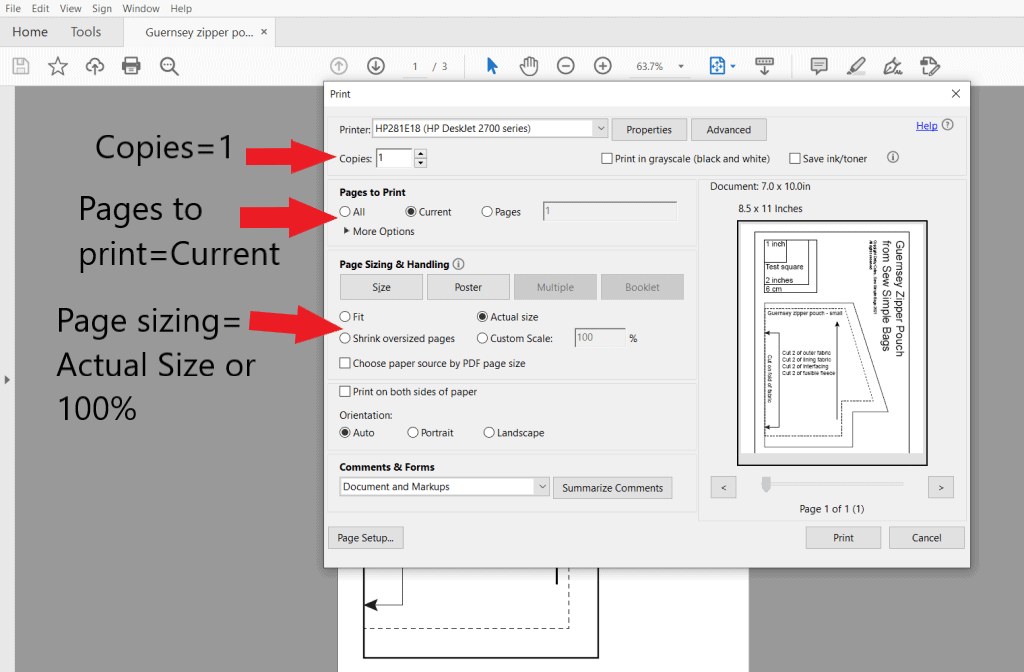 Now it's time to have a good look at this print options page and check out the settings.
Copies – usually going to be set to 1 unless you want to print more than one copy of a pattern
Print in grayscale (black and white) – can save your colored ink. However some multi-sized patterns such as for clothing may use colored lines to identify sizes, so if this is the case, you might still choose to print in color.
Pages to print – for this test page with the measurement square, we only want to print one page. It should be the page you are seeing in the preview on the right hand side of the dialogue box. If you aren't seeing the correct page there, use the left and right arrows under the image to scroll through the pattern until the page with the test square is previewing in the window. Then select CURRENT page from the Pages to Print setting. Current page means the one you are seeing in the preview.
Page sizing and handling – very important here to make sure that you have selected either ACTUAL SIZE of if you pick CUSTOM SCALE, that it is set to 100%.
You might also click on the page set up button on the bottom left of the box and just check that the paper size is correct for your printer. If you are in the USA or Canada, you'll pick LETTER, and for the rest of the world, you probably use A4.
Now hit the PRINT button on the bottom of your dialogue box and out of your printer should come a single sheet of paper, the page of the pattern with the scaling diagram. Now measure the box or ruler carefully and you should find that it matches the given measurement. Success! You can now go on to print the other pages you need.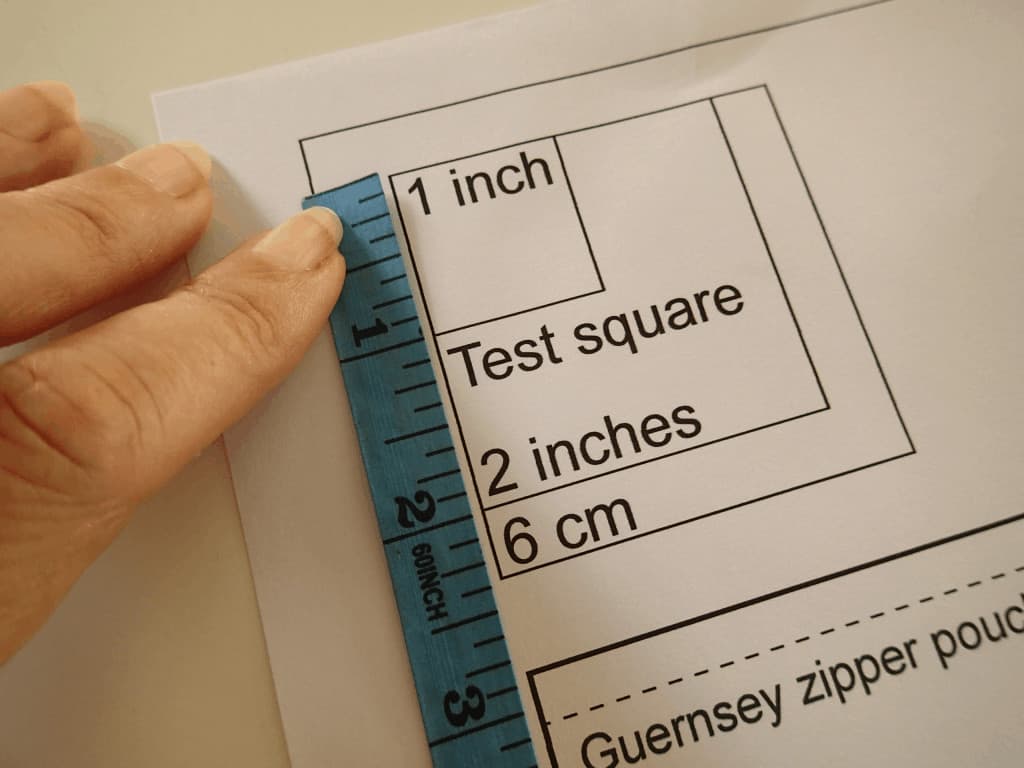 How to print only the pages you need
There are a number of ways you can use the print dialogue box to print the pages you need, if you have decided not to print ALL.
Print individual pages as you did above for the test square page, using CURRENT. Use the arrows under the image preview to scroll through to the page you want to print. When you see the correct single page in the preview, use CURRENT to print only that page. Exactly as you did above.

Note the page number of the page from the preview. As you scroll through, you will see the page number displayed under the image. If you can see that you want to print pages, 2, 5 and 7 you can enter these into the dialogue box separated by a comma. Then PRINT and only pages 2, 5 and 7 will print out. Magic!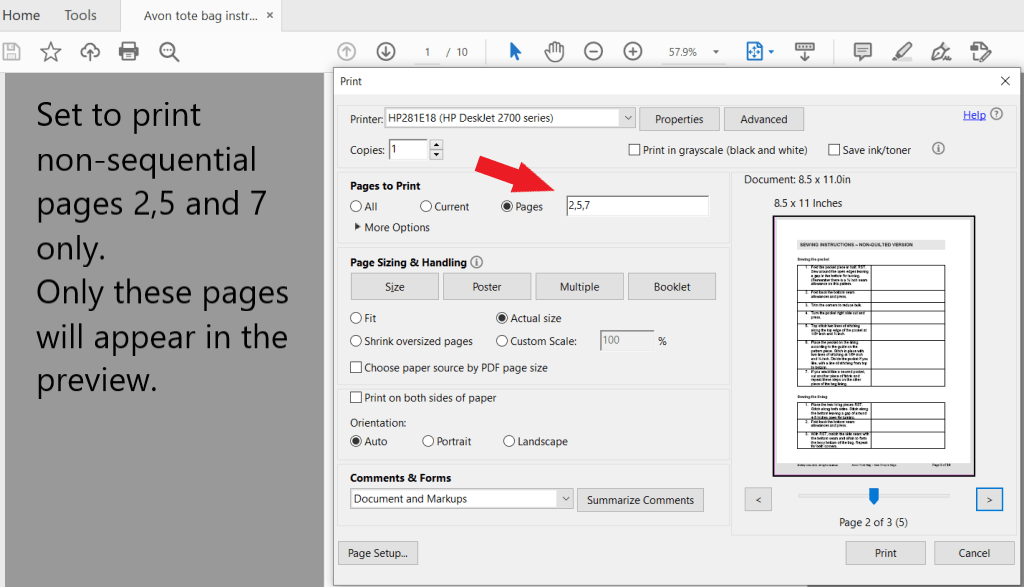 By a range of pages in sequence. If you want to print pages 2, 3, 4, 5 and 6, you don't need to put in the page numbers individually. You can enter 2-6. That means all pages starting from page 2 and finishing with page 6. Hit print and you'll get those 5 sequential pages.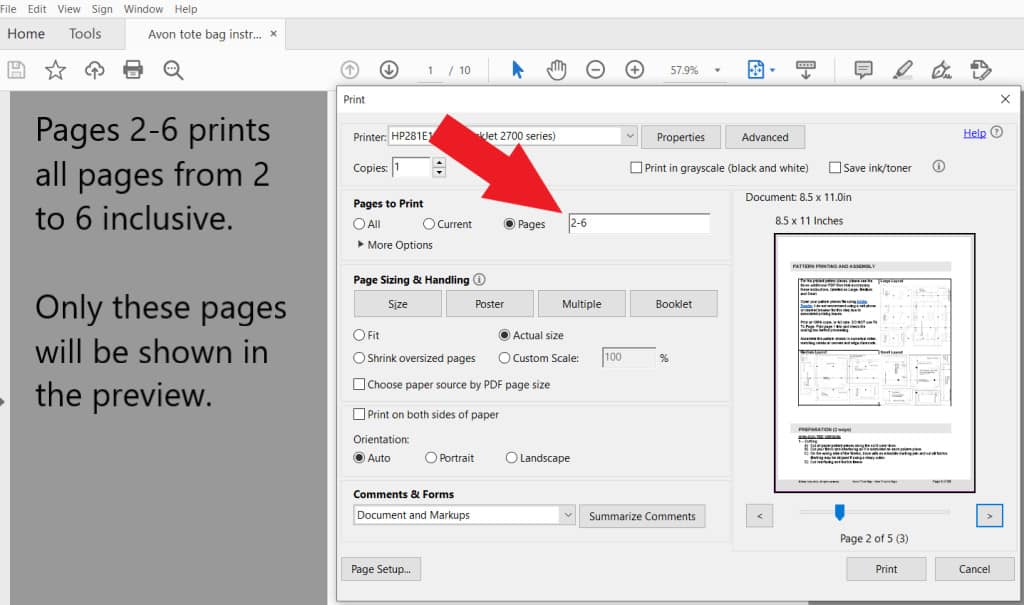 IMPORTANT – No matter what way you choose to print and what combination of pages, ALWAYS make sure that your printing is at ACTUAL SIZE or scale is set to 100%.
What if you don't have a printer at home?
Options for how and where to print your sewing pattern if you don't have a printer at home:
Do you even need to print it? If the pattern pieces are all squares and rectangles there may be a cutting chart included in the pattern so you can cut all of the fabric pieces from measurements alone. If you really love pattern templates, use those measurements to draw up pattern pieces on some printer paper or brown paper.
Print at work. Yeah, we've all done it, taken a personal document to print at the office. Just ask the boss if it's OK first. You can email the file to yourself at work, or if it's allowed, put the file on a thumb drive and plug that into the work computer to print. (Check out these cute sewing thumb drives as the most fun way to store your sewing patterns.)
Email it to a friend. Maybe your friend can print for you. Just remind them to print at actual size or 100% scale and let them know the page numbers you need.
Internet cafes. Fewer of them around than there used to be, but you might still have one near you especially if you live in a tourist area. We've had documents printed in tourism information offices when we've been on the road too, and in the business centres of hotels.
Your local library or job center. There are several places in your local community where you can probably print a document for a very reasonable fee. Check out your library, job centre or other community organisations.
Photo or print stores. Your local photography store probably has somewhere you can print at an automated machine, or will print a document for you. This might be more expensive if they only have photoquality paper available. Stationary shops will often print for you for a small fee too.