Guernsey Zipper Pouch sewing pattern in 3 sizes, easy cosmetics bag
Sometimes there is just a classic bag pattern that everyone should have in their collection. For me, it's this zipper bag with the wide flat base and triangular shape, narrowing towards the top. It's like a coming of age for sewers, a bag that everyone should sew on their way to sewing greatness.
Never sewn a zipper before? This bag is a good place to start and I've included a couple of tips for how to get nice neat ends on your zipper so it sits up nice and straight on the top of the bag and doesn't get pulled down into the ends.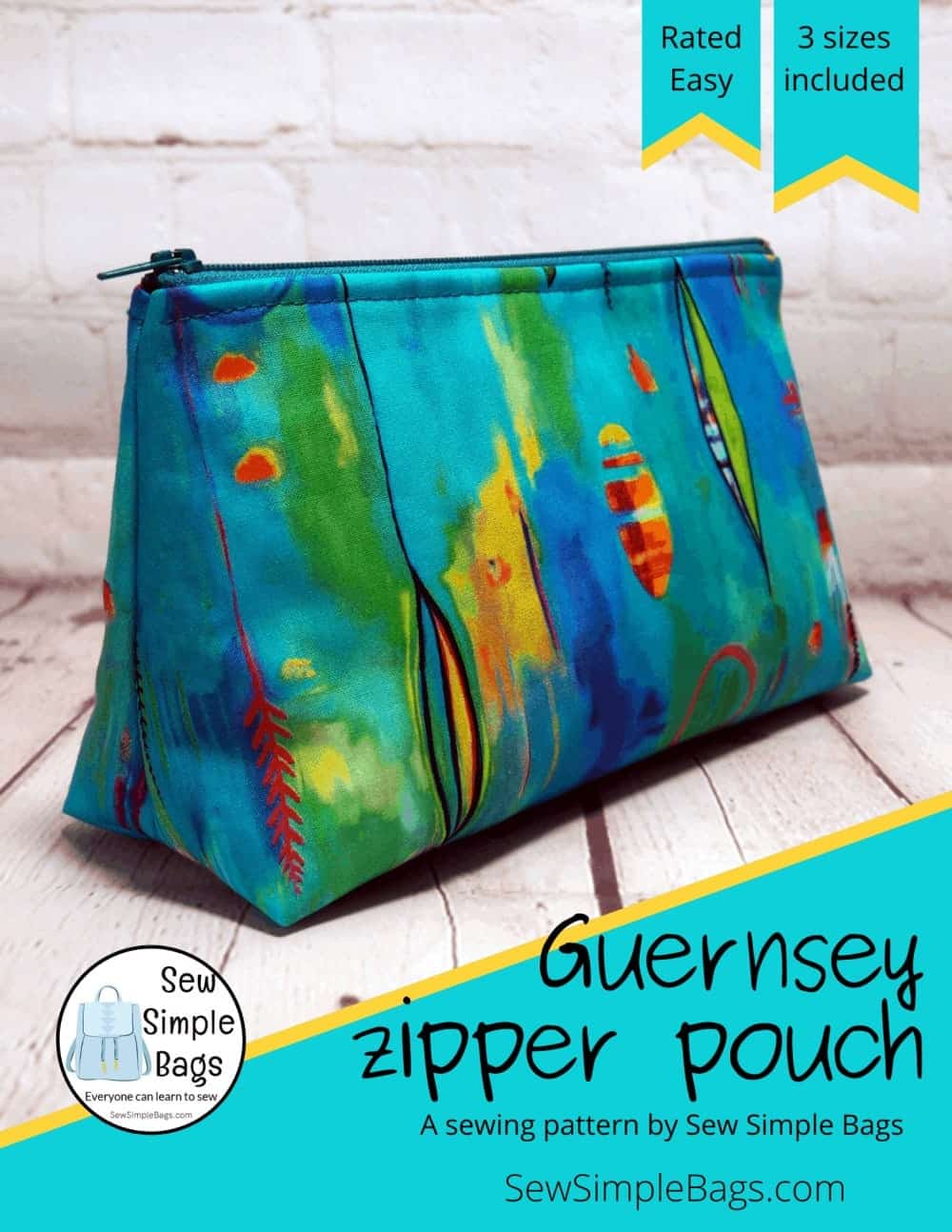 This easy to sew classic zipper bag comes in three different sizes in the same pattern. It's a simple lined
bag with no raw edges, a wide flat base with plenty of room inside, and a zipper with neat ends. These
bags are ideal for storing any number of items from craft supplies to cosmetics, to snacks for a road trip
in the car.
Features of the Guernsey Zipper Pouch sewing pattern
3 different sizes in the same pattern so you'll always be able to pick the one that's perfect for you
a nice wide flat base so the bag will sit without falling over and spilling the contents
bulk-free zipper construction for neat zipper ends
easy to follow pattern with clear color step-by-step photo instructions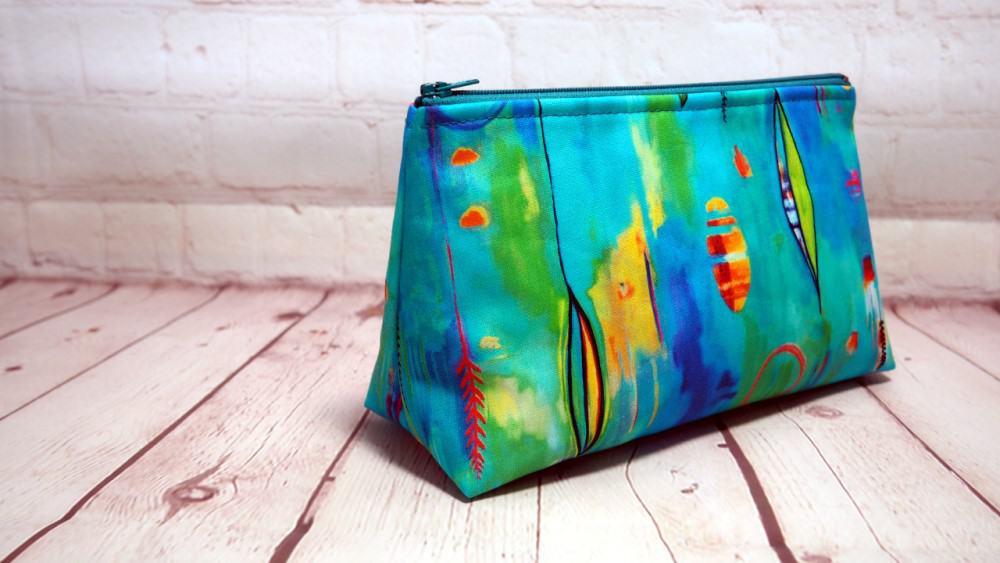 Skill level:
This is a beginner level pattern. You will learn tips for how to sew a zipper with nice neat, dent-free ends without needing to sew zipper tabs. You'll also create easy boxed corners for the flat base. Other suggested skills – how to sew the invisible ladder stitch.
What materials are suitable for the Guernsey Zipper Pouch?
The Guernsey bags can be sewn with any cotton fabrics, lightweight home decor fabrics, faux suede or similar but work just as well with cork and vinyl too, making this pattern a must-have versatile pattern for every sewers collection.
You may wish to vary your choice of interfacing according to the weight or stiffness of your outer fabric. For standard quilting cotton, I recommend a woven fusible interfacing (see here for a handy comparison of three top brands) doubled up with a layer of fusible fleece.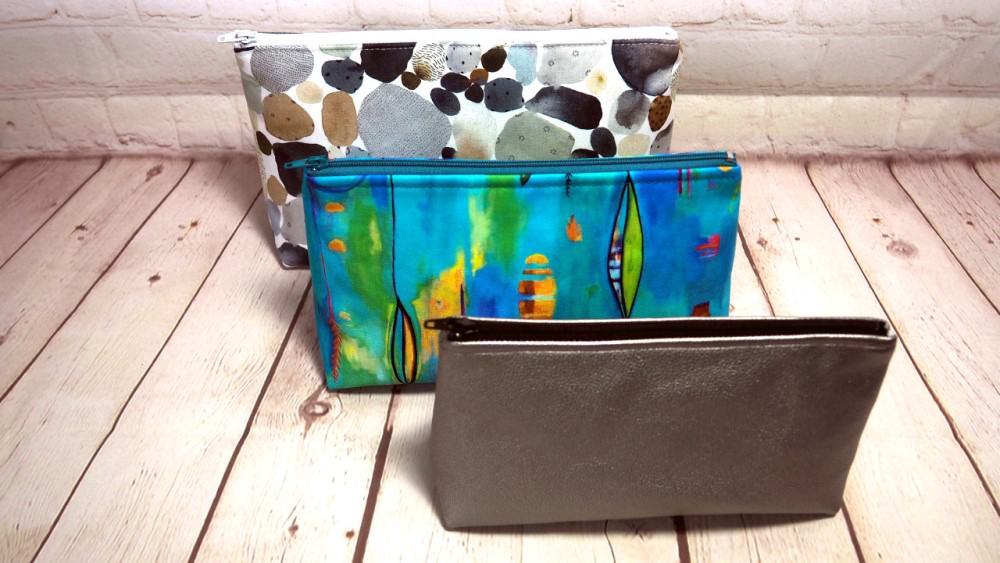 This easy to sew cosmetics bag pattern comes in three different sizes:
Large – 9" long x 5.5" tall x 3.5" deep (22.5 x 13.75 x 8.75cm) approx
Medium – 8" long x 5" tall x 3.25" deep (20 x 12.5 x 8cm) approx
Small – 7" long x 4.25" tall x 3" deep (17.5 x 10.5 x 7.5cm) approx
Materials needed to sew this easy zipper pouch
Outer fabric of your choice – size depending on the size of bag sewn. This pattern is Fat Quarter friendly.
Lining fabric, I recommend a quilting cotton
Closed-end zipper in 7, 8 or 9 inches.
Woven fusible interfacing (see an interfacing comparison video here)
TIP – for best results use the correct size closed-end zipper to match the pattern, but this bag also works with zipper by the yard/continuous zipper tape for ease and convenience.
Grab this pattern stash essential now!
You'll find endless uses for this handy zipper bag and unlimited reasons to sew them. Great gifts for friends or family, a quick and easy sew when you just need to get something done today, and no expensive materials needed. And yes, you can 'sew to sell' these too if you have an Etsy store or sell at craft fairs.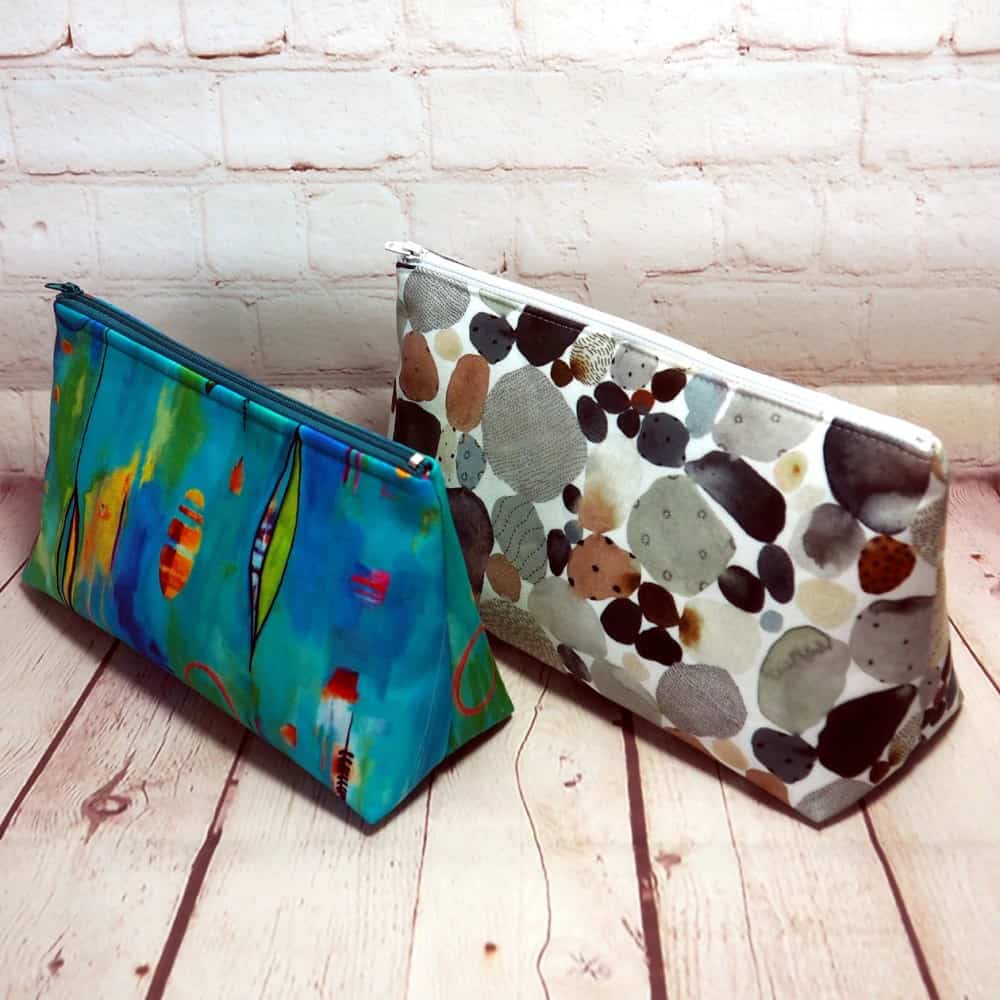 Will you help me share by pinning one of these images to your sewing boards?