FREE Bampton Drawstring Bag sewing pattern and video (3 sizes)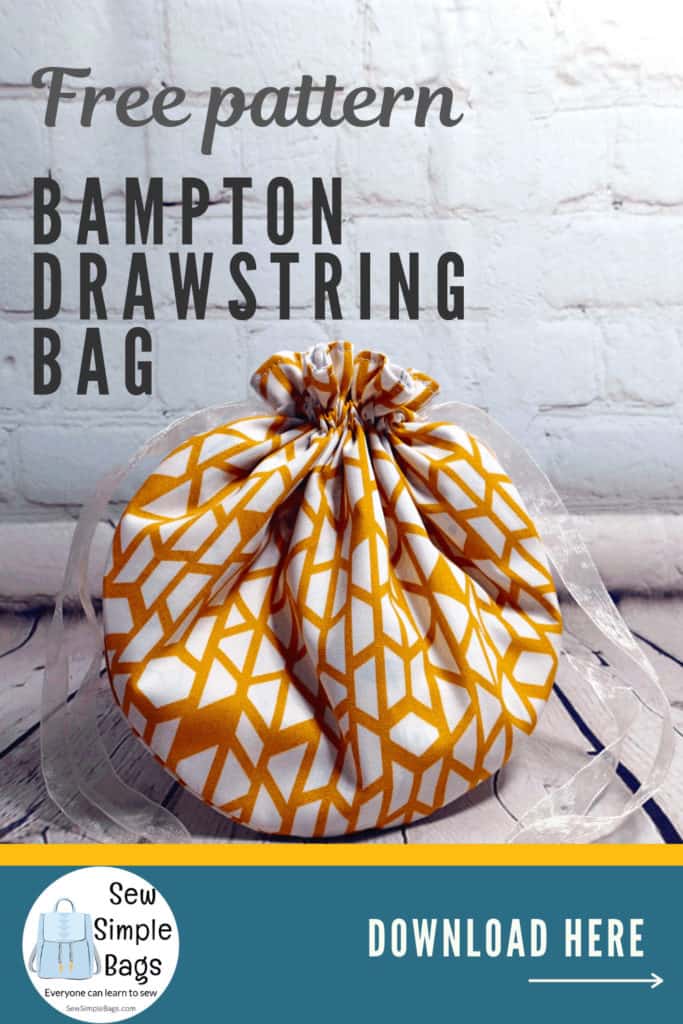 At last I'm delighted to bring you the first new sewing pattern on my site. Introducing the Bampton Drawstring Bag pattern. This cute drawstring bag is perfect for beginners and those new to sewing, kids or returning to sewing after a long break.
These bags are perfect for so many uses. Since I just finished mine, already they are in use and I could do with more! I think I'll get to work on some other drawstring bag ideas because you just can't get enough of these fun to sew projects.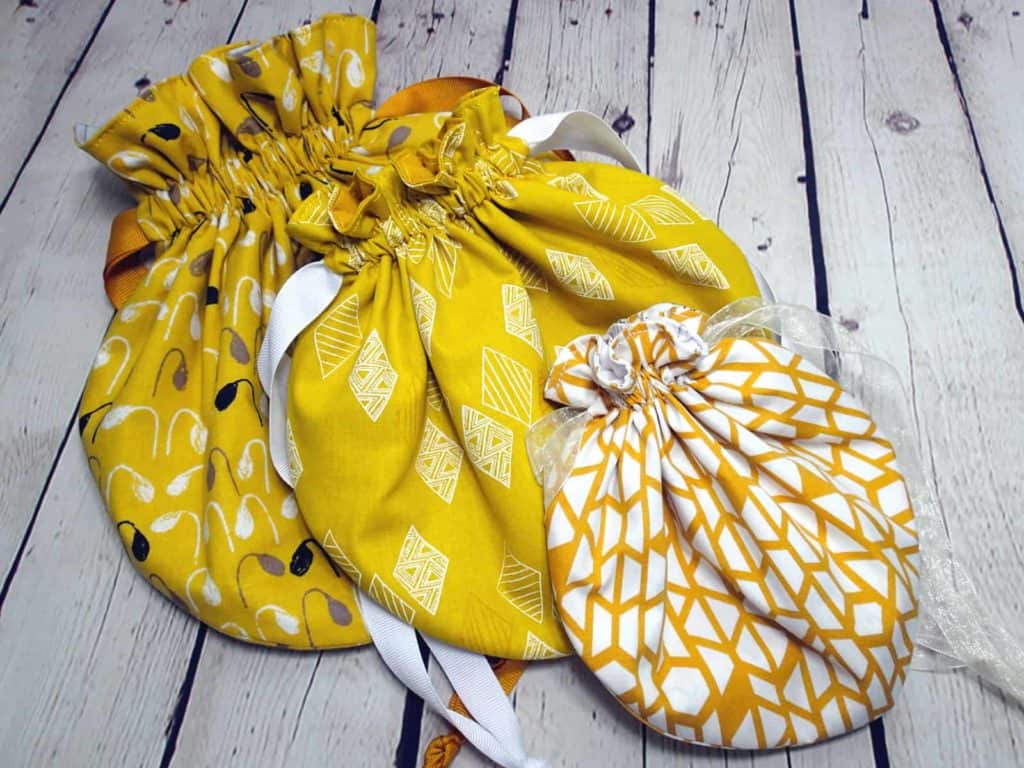 The small one is ideal for storing items of jewelry. I found it to be the perfect size for my bangles and chunky bracelets. The medium could be for cosmetics or sewing supplies, but is ideal for storing any loose bits and pieces. It's already in use keeping all of the attachments for my husband's hair clippers.
The large size drawstring bag is very versatile. This would make a good project bag, especially for those who enjoy yarn crafts. Mine has already been put to use to hold all of my reels of thread. I love how it opens up nice and wide to make it easy to see what's inside. Any of the sizes would also be ideal as gift bags – eco friendly and reusable, these pretty bags can be used to deliver a gift and then they are a gift in themselves too.
I'll show you the bags and tell you about the sew-along below
Features of the Bampton Drawstring Bag sewing pattern
The pattern comes in three sizes, small, medium and large
The instructions come as a PDF download (it's FREE) and include step by step written instructions with photos
There is a full-length video tutorial
Each bag is an extended half circle
The bag has a large wide opening at the top and a smooth curved base
There are two drawstrings which can be ribbon or cord
When cinched the top gathers up tightly which looks pretty
The cinched up drawstrings can be tied in a bow to keep the top tightly closed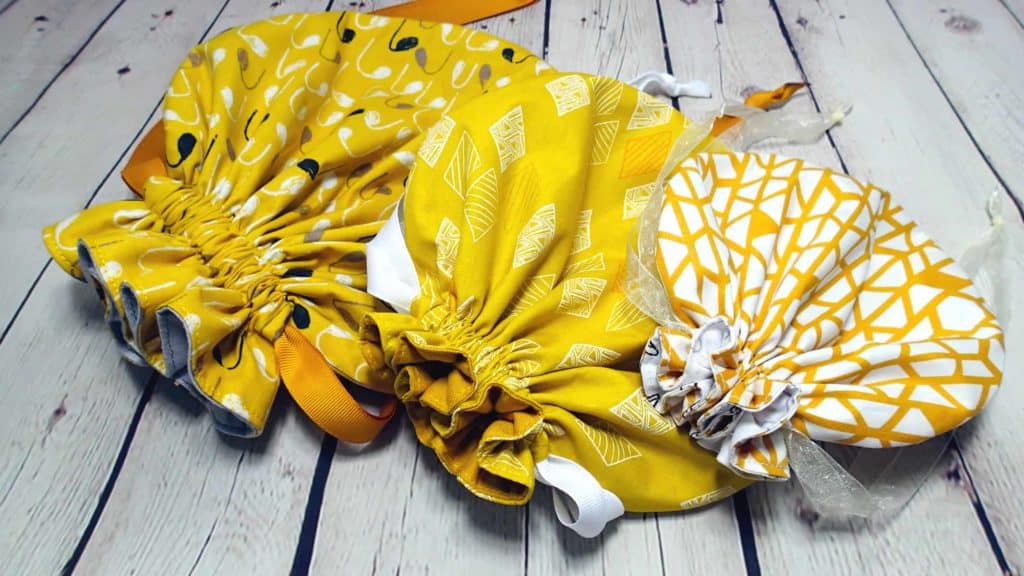 The pattern
There are three sizes of the bag included in the one pattern. Here are the sizes:
Small – 9.75″ across x 6.5″ tall
Medium -12″ across x 8″ tall
Large – 15″ across x 10″ tall
The pattern pieces for the small and medium print over two pages each, the large prints on 4 sheets. You can choose to print just one size or print them all. Printing the instructions is optional. You can view them as you sew on a tablet or laptop to follow the instructions, or you can follow along with the sew-along video.
Check out the slideshow below to scroll through some more images for the Bampton Drawstring Bag
Sewing video tutorial included
The sewing video is also FREE and is perfect for beginners. I take it really slow and go through everything that you would need to know. I assume that you already understand the basics of sewing and how to use your sewing machine, but everything else is covered in detail so you won't put a stitch wrong and will get the perfect result for your Bampton Drawstring Bag pattern.
The video includes sections as follows:
Welcome and introduction
Downloading the pattern
Assembling the pattern
Cutting the fabric
Fusing the interfacing (optional)
Sewing the lining
Sewing the outer
Assembling the bag
Turning right side out and pressing
Topstitching
Sewing the casing
Threading the ribbon

My pattern names – it's always difficult to know what to name a sewing pattern. I used to use descriptive names, so the name would describe a certain element of the bag design. Girl's names are often used, but it's important to make sure you don't name your bag sewing pattern the same as another one already available.
So, at last, I decided to name my new pattern range after towns and villages in the UK, where I came from originally. So far as I know it's original so there shouldn't be any other bag patterns out there called the Bampton. Interested to know about Bampton village?
The village of Bampton was a major late Anglo-Saxon centre: the focus of a royal manor, and site of a 'minster' church. At the time of the Norman Conquest, Bampton was a large settlement and in the Domesday Book of 1086 there is already mention of a market in Bampton. The town enjoyed amazing prosperity in the early Middle ages, and much of its wealth was based on wool though later on there was also textile and leatherworking. Bampton may seem oddly familiar to many first time visitors – it was used for filming the village scenes in the popular TV drama 'Downton Abbey'.