Dorset easy drawstring bags sewing pattern in 3 sizes
I've had some requests for very simple bags to sew, ideal for those who are completely new to sewing. The Dorset sewing pattern is a set of three very easy to sew drawstring bags in different sizes, ideal for the complete beginner or even as a sewing pattern for kids to use to learn to sew.
There is nothing more rewarding than sitting at a sewing machine for the first time, and within a short time having success with your first ever sewing project. Even better if it is something you can really use, a versatile pattern that you'll want to sew over and over again. The Dorset Drawstring Bags are quick and easy to sew, beginner-friendly, and Fat Quarter friendly so you don't need a lot of materials to sew them into the perfect result.
This set of drawstring bags feature a separate drawstring casing so you can mix and match your fabrics. The bags are fully lined inside with no raw or unfinished edges. There are a pair of drawstrings or ribbons to pull so the bags cinch up closed nice and tight and stay closed.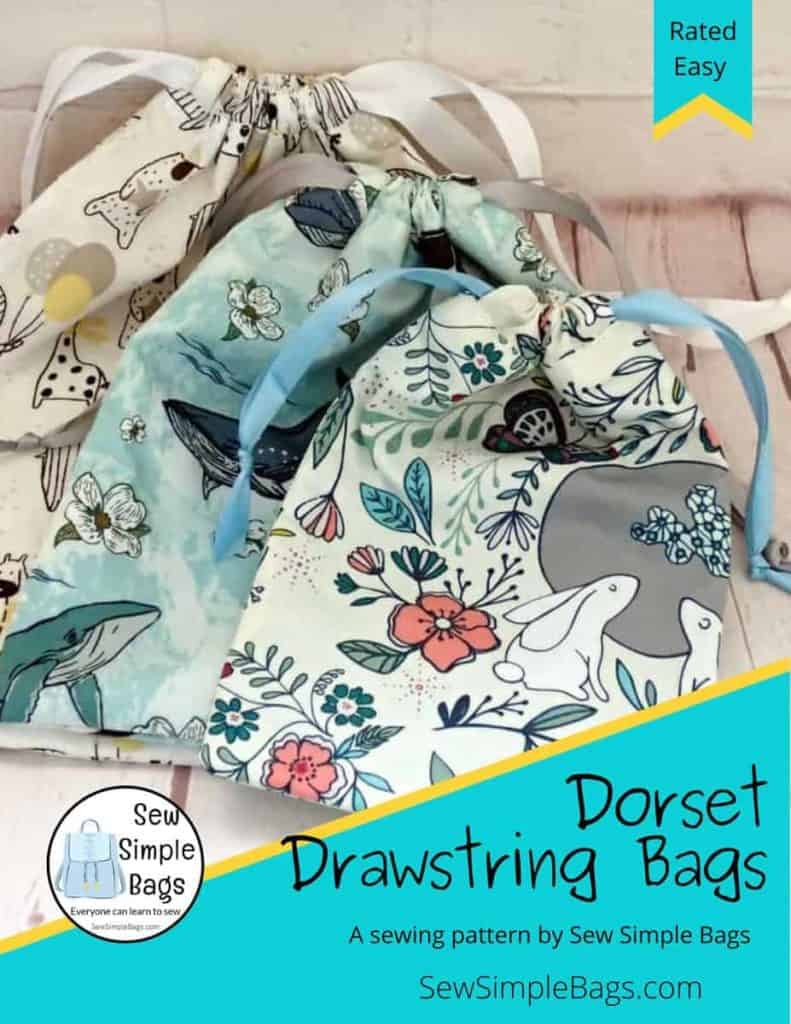 Features of the Dorset Drawstring Bags sewing pattern
Set of three in different sizes
Very quick and easy to sew, ideal for beginners
Fully lined with no raw or unfinished edges
Double drawstrings or ribbons for closing or hanging
Printable pattern pieces included
Cutting labels with measurements for your fabric pieces
Measurements in inches and centimeters
No special materials needed, just some cotton fabric and ribbon
Comprehensive step by step written instructions with color photos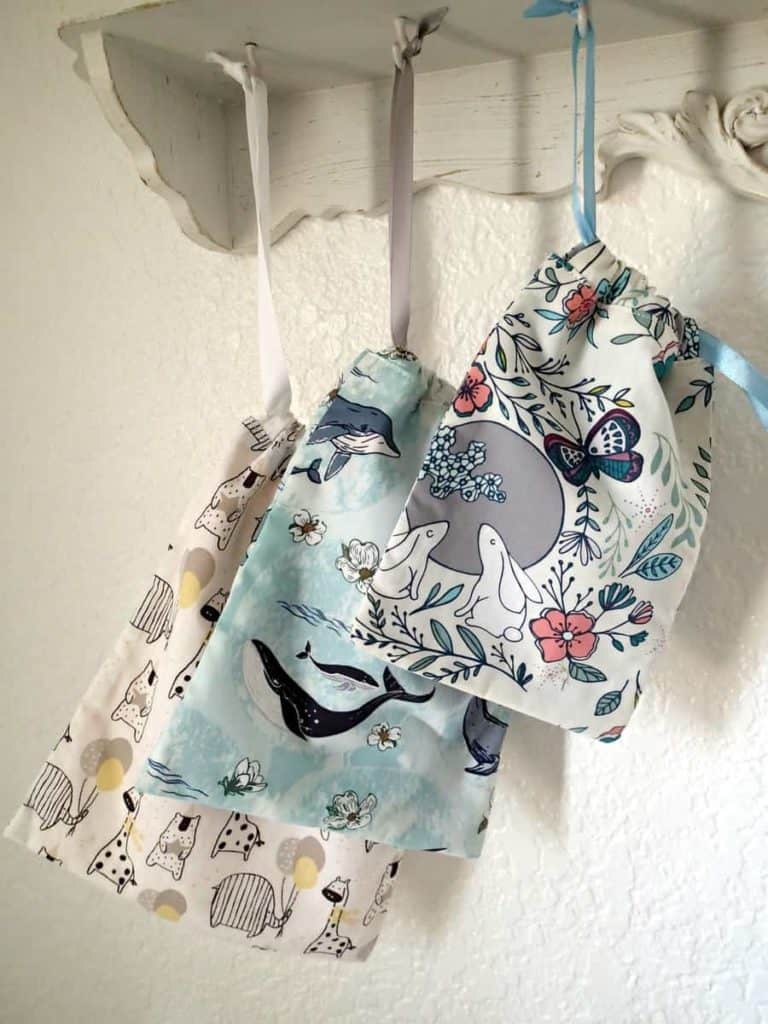 Finished measurements:
Small – approx. 5.5" w x 8" tall (14cm x 20cm)
Medium – approx. 7.5"w x 10" tall (19cm x 25cm)
Large – approx. 9" w x 12" tall (22.5cm x 30cm)
Skill level
This is a complete beginner level sewing pattern. If you can sew a reasonably straight line with a sewing machine, you can get a good result with this easy drawstring bag sewing pattern. You will learn how to sew a fully lined bag with a separate drawstring casing, how to reduce bulky corners, the importance of pressing for a neat finish, and how to get a neat finish with your lining.
Recommended materials for the Dorset Drawstring Bags sewing pattern
These bags can be sewn with any light to medium weight non-stretch fabrics. I recommend quilting weight cottons, but even old cotton bedsheets and pillow cases or old shirts can be cut up and used to sew these easy drawstring bags.
More experienced sewers can use fancy fabrics such as silk, satin or crepe de chine. These fabrics can be very floaty and slippery and are not easy to work with if you are a beginner, but can make the more gorgeous and luxurious bags that are ideal for gift bags or storing lingerie.
For the drawstrings I recommend a satin ribbon, but a medium weight cording can be used too – sewers choice.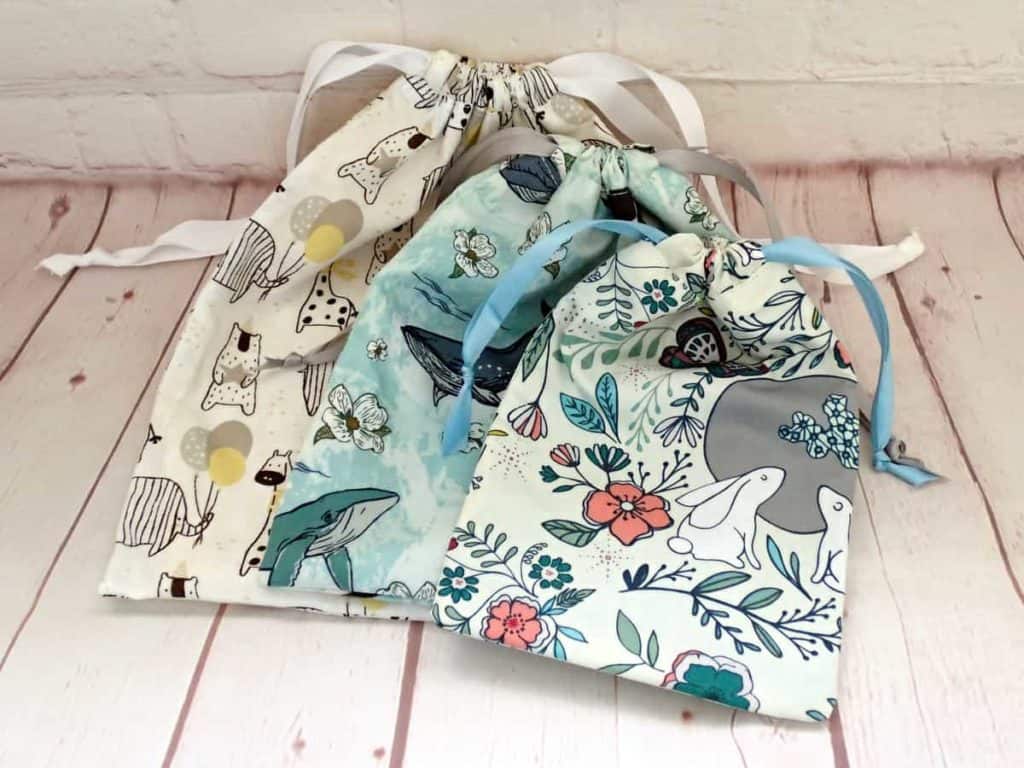 Grab this pattern stash essential now!
You'll find endless uses for these handy drawstring bags and unlimited reasons to sew them. Great gifts for friends or family, a quick and easy sew when you just need to get something done today, and no expensive materials needed. And yes, you can 'sew to sell' these too if you have an Etsy store or sell at craft fairs.
Will you help me share by pinning one of these images to your sewing boards?