Elmore triple pocket Zipper Pouch sewing pattern
The Elmore Zipper Pouch is a simple to sew fully lined zipper pouch with one zipper but three pockets. There is an easy-sew zipper install, which is ideal for beginners.
This easy zipper pouch is Fat Quarter friendly, a quick project, and requires no measuring, printing or pattern pieces. Ideal if you don't have a printer at home, or don't want to fuss about with careful cutting of multiple pattern pieces. Open up the top zipper and there are three pockets inside, two large and one small. The long zipper allows the bag to open really wide so it's easy to see what's inside.
Use it as a simple clutch bag for an evening out, or for keeping cosmetics, jewelry, sewing supplies, or pens. Big enough to hold your phone, some cards or cash, and a lipstick and keys for date night.
It's an ideal project for those who might be new to sewing zippers, because you get to see the zipper and adjust it as you sew for a nice straight finish. Use basting tape to get it perfect – optional of course.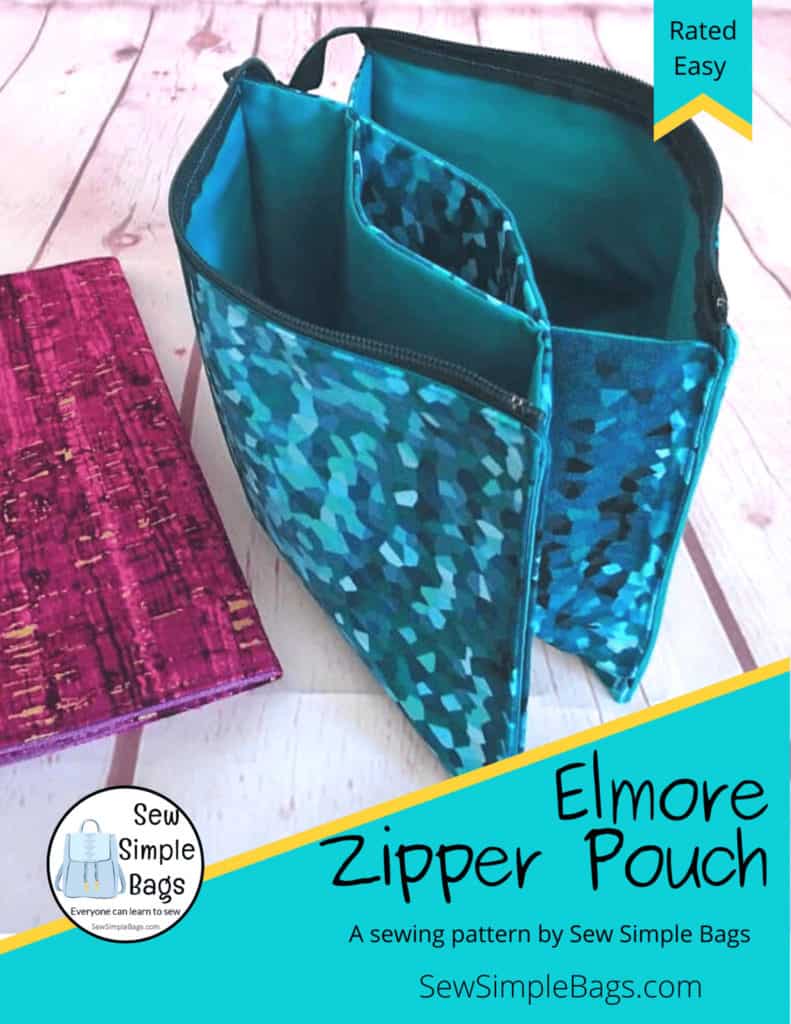 Features of the Elmore Zipper Pouch Sewing Pattern
3 separate pockets, two large, one small
Easy sew zipper without it being hidden between two pieces of fabric
Stands on its own
No fancy hardware needed, just fabric, interfacing and a zipper
Very quick and easy to sew, ideal for beginners
Fully lined with no raw or unfinished edges (note, the zipper tape does show on the inside of the bag so choose a zipper that matches your fabric)
Measurements in inches and centimetres
Comprehensive step by step written instructions with color photos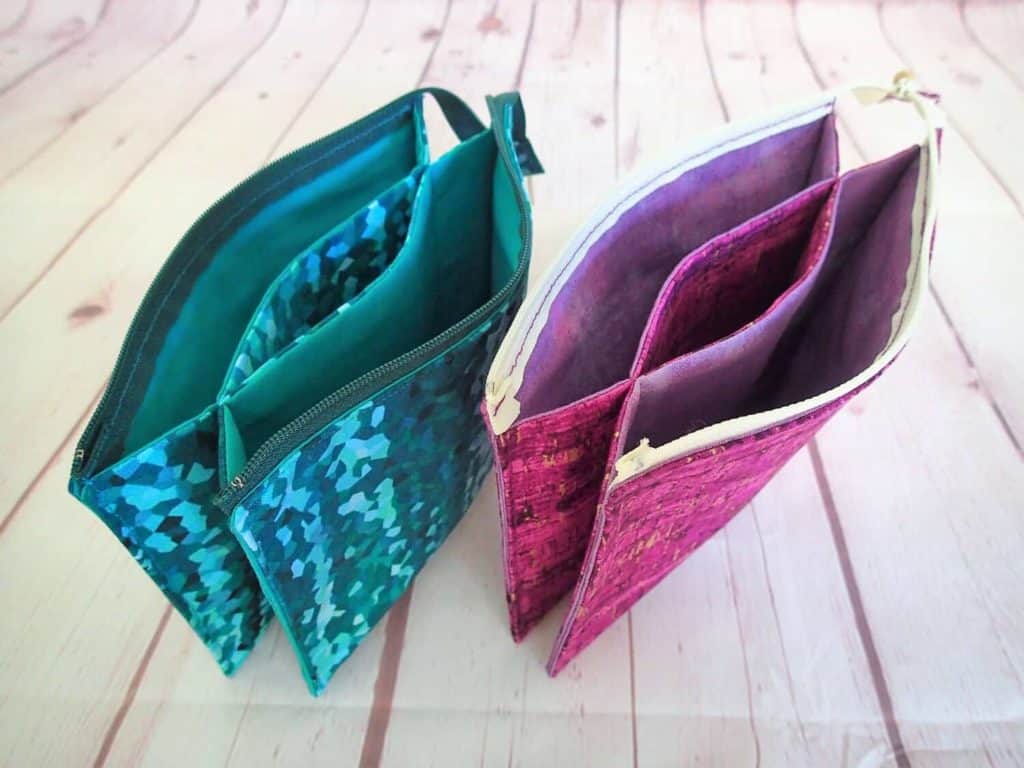 Finished measurements:
7.5 inches wide, 5 inches tall, ½ inch deep (19cm x 13cm x 1cm) approx
Skill level:
This is a beginner level sewing pattern. If you can sew a straight line with a sewing machine, with some careful sewing you can get a good result with this easy zipper bag sewing pattern. Skills you will learn – sewing a simple zipper, sewing a zipper end, using basting tape.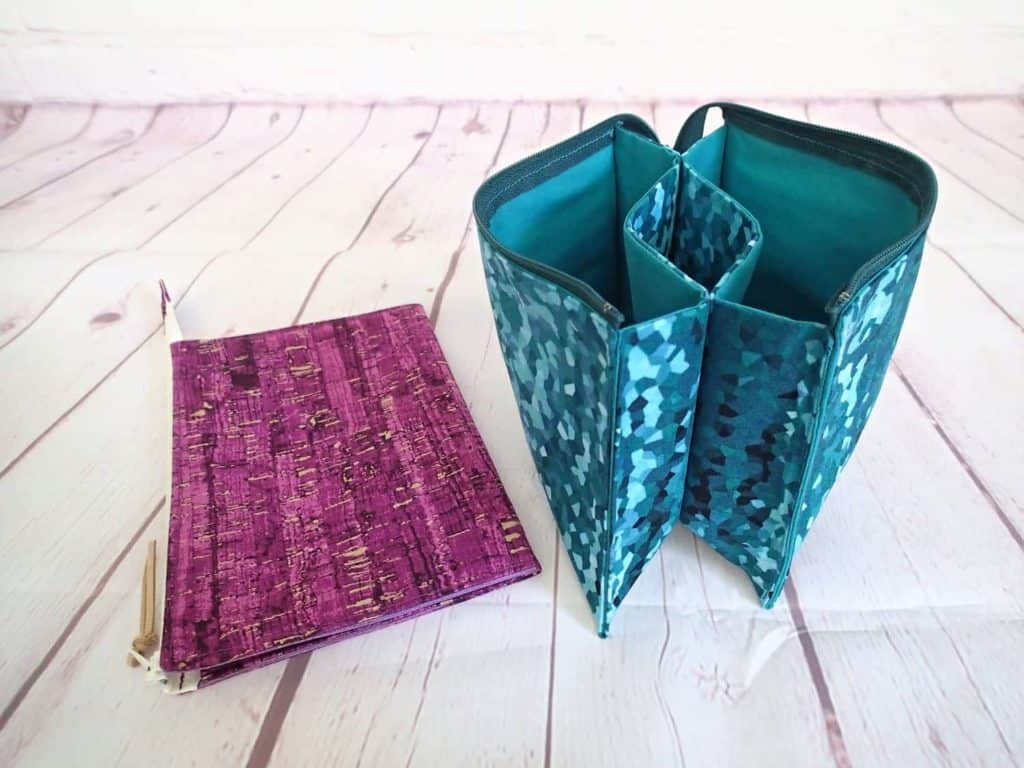 Recommended materials for the Elmore Zipper Pouch sewing pattern
This pouch can be sewn with any light to medium weight non-stretch fabrics. I recommend quilting weight cottons, but even old cotton bedsheets and pillow cases or old shirts can be cut up and used to sew these easy zipper bags. More experienced sewers can use fancy fabrics such as silk, satin or crepe de chine. These fabrics can be very floaty and slippery and are not easy to work with if you are a beginner, but can make gorgeous and luxurious bags that are ideal for evening bags or storing special items.
Materials needed:
Outer fabric – 1 fat quarter
Lining fabric – 1 fat quarter
Woven interfacing (such as SF101, 20 inches wide) – 1/3rd of a yard/metre
1 x Regular closed end zipper, 10 inches or longer
Grab this pattern stash essential now!
Designed as a small cosmetics pouch, but ideal for so much more. A cell phone pouch, clutch bag, or pencil case, the Elmore Zipper Pouch has three pockets inside to keep your bits and pieces organized. You'll love the simplicity of the design, fabric cutting, and construction.
Great gifts for friends or family, a quick and easy sew when you just need to get something done today, and no expensive materials needed. And yes, you can 'sew to sell' these too if you have an Etsy store or sell at craft fairs.
Will you help me share by pinning one of these images to your sewing boards?