Kent Clutch Bag sewing pattern, custom pockets and video
This smart wristlet clutch bag has a jaunty diagonal seam front and back, created with a slightly different construction method that does away with the centre bottom seam, although you can choose to add that back in if working with a directional fabric.
I think you'll love the option to learn the custom pocket hack technique that you can apply to the lining of all of your future bag patterns and projects to create neat slip pockets that exactly fit what you plan to carry.
This clutch has a removable wristlet strap included as standard, but add another strap connector on the other side seam and this bag is also ideal for turning into a shoulder bag or crossbody bag with a snap on adjustable strap in a length of your choice.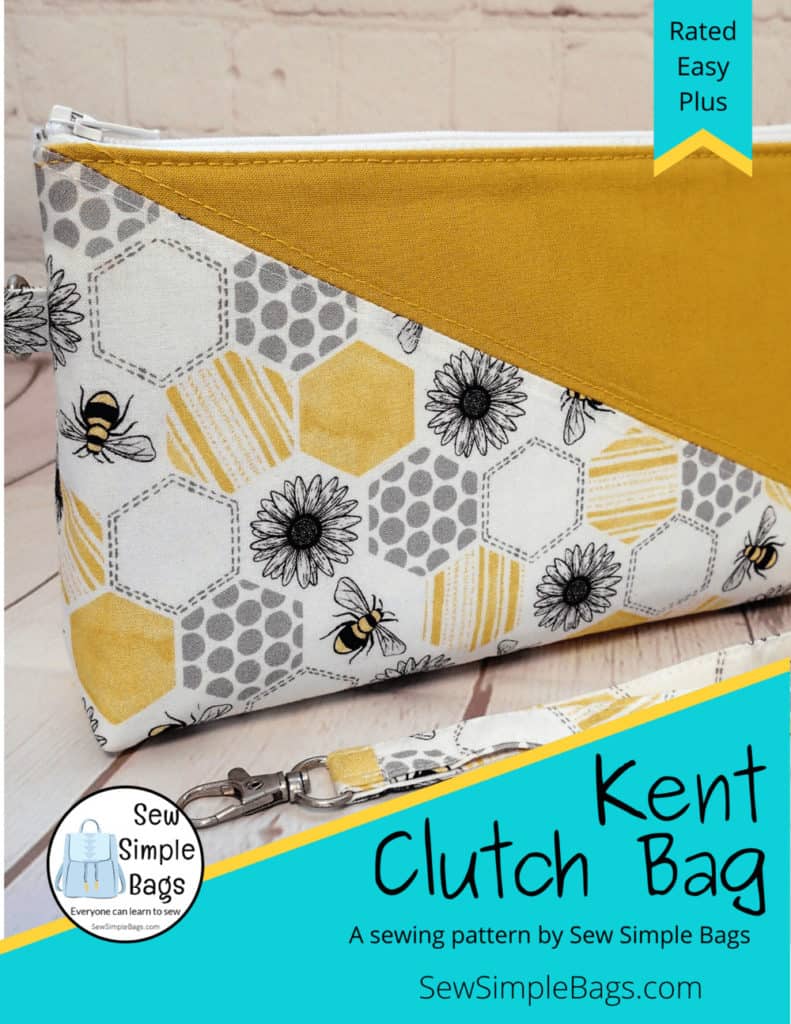 The Kent Clutch Bag is a simple lined bag with no raw edges, a slim flat base with plenty of room inside for all of your essentials for an evening out, and a zipper with neat ends. The optional wrist strap can be snapped on to allow you to carry your purse hands free.
Features of the Kent Clutch Bag sewing pattern
removable wristlet strap
a flat base so the bag will sit without falling over and spilling the contents
instructions for creating custom interior pockets that you can use in all of your sewing projects
easy to follow pattern with clear color step-by-step photo instructions
interesting construction method
optional video tutorial, get the pattern with or without the video
Check out a quick preview of the Kent Clutch Bag here
Skill level:
This is a beginner plus level pattern. It's a good skill builder pattern but the zipper is a little bit more tricky than the straightforward zipper pouch like the Guernsey. You will learn tips for how to sew a zipper with nice neat, dent-free ends without needing to sew zipper tabs. You'll also create easy boxed corners for the flat base, and sew a removable wristlet strap. Other suggested skills – how to sew the invisible ladder stitch and how to sew the perfect diagonal seams.
What materials are suitable for the Kent Clutch Bag?
The Kent can be sewn with any cotton fabrics, lightweight home decor fabrics, faux suede or similar but work just as well with cork and lightweight vinyl too, making this pattern a must-have versatile pattern for every sewers collection.
You may wish to vary your choice of interfacing according to the weight or stiffness of your outer fabric. For standard quilting cotton, I recommend a woven fusible interfacing (see here for a handy comparison of three top brands) doubled up with a layer of fusible fleece.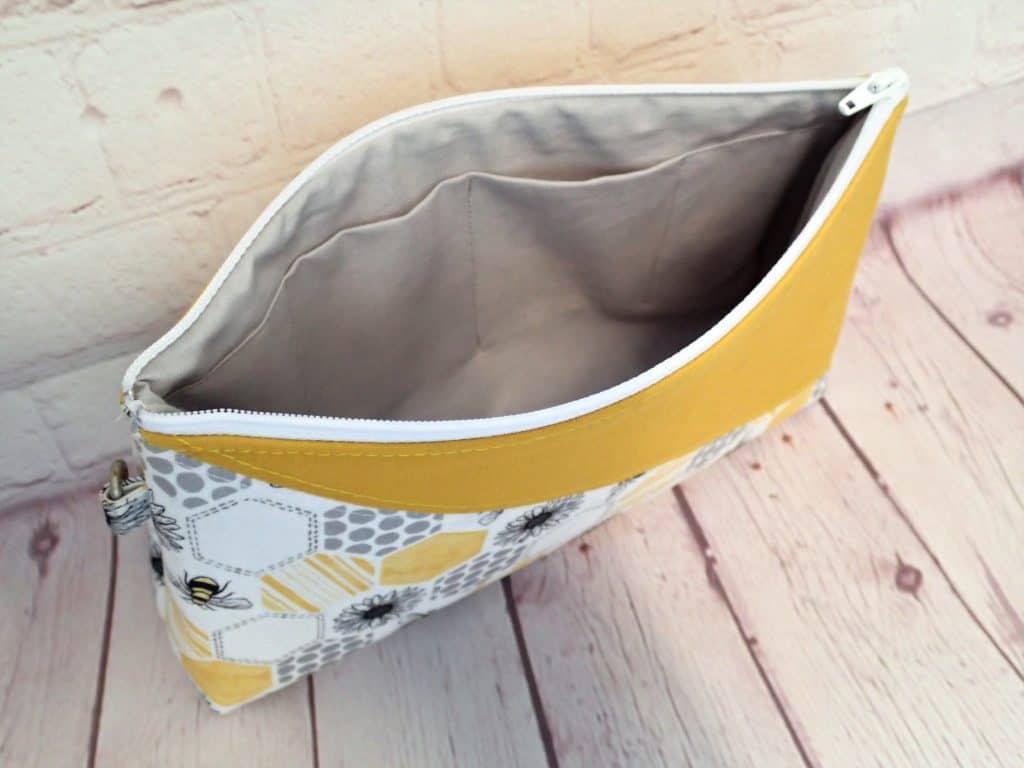 This easy wristlet clutch bag comes in a single size:
Finished size – 9" long x 5.25" tall x 1.75" deep (22.5 x 13.5 x 4.5cm) approx
Materials needed to sew this easy zipper pouch
Outer fabric of your choice
Lining fabric, I recommend a quilting cotton
Closed-end zipper 9 inches measured along the teeth.
Woven fusible interfacing (see an interfacing comparison video here)
(Optional for the wrist strap) 1 x ½ inch snap hook and 1 x ½ inch D-ring
TIP – for best results use the correct size closed-end zipper to match the pattern, but this bag also works with zipper by the yard/continuous zipper tape for ease and convenience.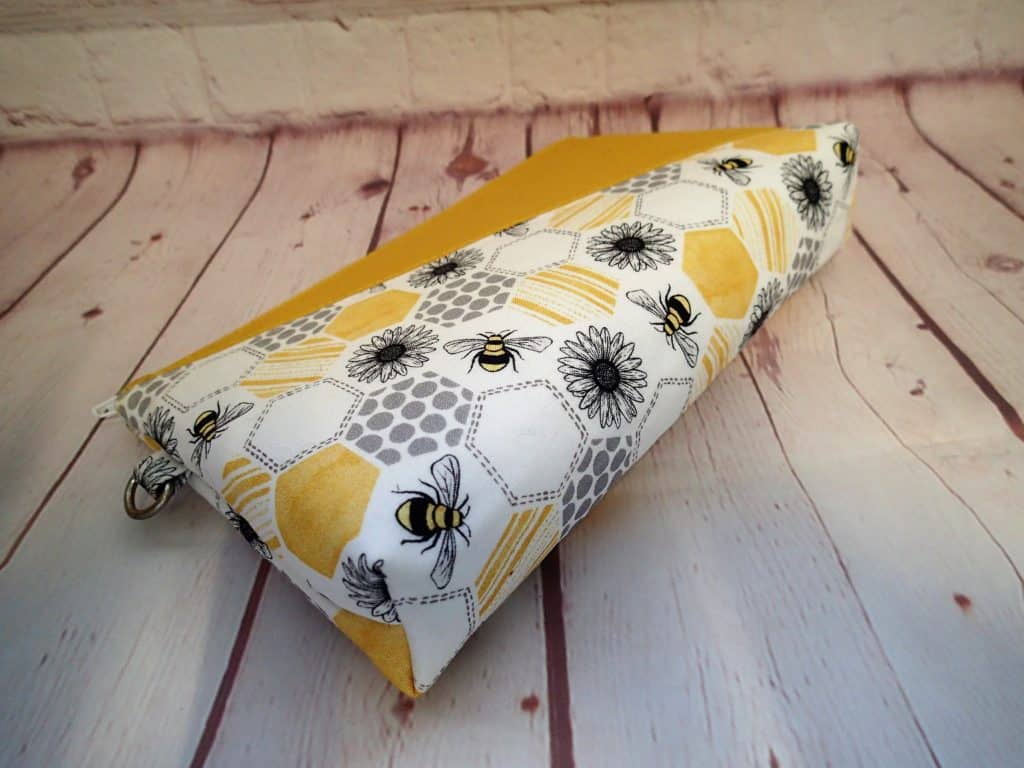 Grab this pattern stash essential now!
You'll find endless uses for this handy zipper bag and unlimited reasons to sew them. Great gifts for friends or family, a quick and easy sew when you just need to get something done today, and no expensive materials needed. And yes, you can 'sew to sell' these too if you have an Etsy store or sell at craft fairs.
Will you help me share by pinning one of these images to your sewing boards?